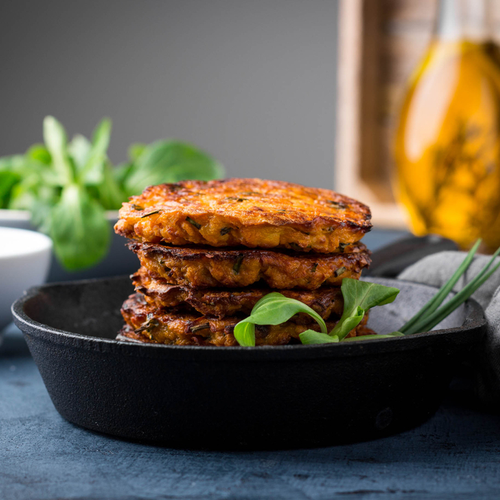 Sweet potato & broccoli fritters
These sweet potato and broccoli fritters are just so darn good served alongside a yogurt or guacamole dip! Sweet potatoes are high in carotenoids like beta carotene which help strengthen your eyesight and overall immunity. Broccoli is also a great source of vitamin C!
Ingredients:
Makes 30 small fritters
3 Garlic cloves
1 large Broccoli and Stalk
I Cup of Grated Sweet Potato
1Ttsp Lemon zest80g
Parmesan/ 2Tbs Nutritional Yeast
A big handful of Chopped fresh coriander
100g Ground Almonds
2 Eggs
Coconut oil
2 Spring onions or small onion diced
Black Pepper
¼ Tsp Sea Salt
1 Tsp Chilli
1Tsp Cumin
1 Tsp Smoked Paprika
Ghee or Coconut Oil to fry with
Method:
1.Preheat the oven to fan 170/Gas Mark 5
2.Grate the whole broccoli including stalk and the sweet potato. Alternatively, you can use a food processor.
3.Add all the fritter ingredients together (excluding the eggs) and mix with your hands.
4.Then mix in the beaten eggs, taking care to note if the mixture is too dry or wet. If
it is too wet, crack another egg, or if too dry add some more ground almonds.
4.Heat up your frying pan with your oil of choice. Take a tablespoonful of the mixture and squish into a circular shape. Test the first one out for flavour and consistency.
5.After you are pleased with the mixture make 30 and put on a baking tray for 2
0-25 minutes until crisp and golden on top.
6.Great served with alongside an avocado or yogurt dip.