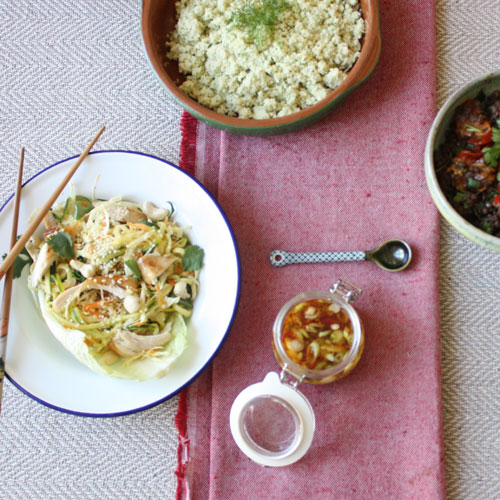 Puy lentils with roasted tomatoes & peppers
Puy lentils, like all lentils are a great source of soluble fibre, that help reduce cholesterol, stabilise blood sugar levels,  as well as keeping your digestive system healthy by bulking out stools, reducing the likelihood of  constipation. They are a great source of vegetable based protein,  containing up to 36%  of your daily requirements in a single cup so great for keeping you feeling fuller for longer and providing the building blocks for repair. Puy Lentils also contain significant amounts of magnesium  which promotes sleep, aids in muscle relaxation and helps relax blood vessels subsequently reducing blood pressure. Lentils also contain good amounts of iron, which is key for metabolism and energy production.
Ingredients:
Serves 1
125 puy lentils
2 tbsp olive oil
1 garlic clove
Handful of fresh flat leaf parsley, chopped
X2 chives, chopped
Sea salt
Ground black pepper
4 fresh plum tomatoes
1 red pepper, cut into strips
4 thyme sprigs
2 tbsp olive oil
1 tbsp balsamic vinegar
Method:
Preheat the oven to 130 degrees (gas mark 2).
Line a baking tray with greaseproof paper.
Slice the tomatoes into quarters, and the peppers (de-seeded) into strips.
Drizzle over 2 tbsps olive oil and balsamic vinegar and add the thyme.
Roast for about 40 minutes or until they are curling around the edges, very slightly blackened (but not burnt) and slightly dried out.
Cook the lentils as per their instructions – until tender.
Once cooked, drain & mix in two tbsps of olive oil and season with salt and pepper.
Leave to cool slightly, then add & mix in the herbs and the cooked tomatoes & peppers.
Serve slightly warm (but can equally be eaten cold).