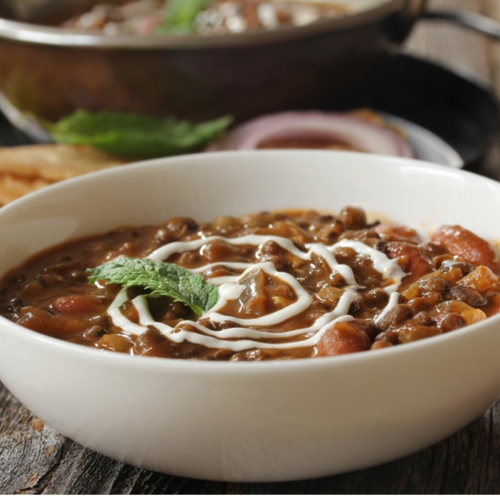 My ash Persian bean soup is a real winter warmer. It's hearty, full of nutritious minerals, vitamins, fibre and antioxidants. Kidney beans, chickpeas and lentils are all incredibly high in protein, so if you want to leave out the chicken/lamb/beef it's still a high-protein meal. The actual cooking time is quite long, but in terms of attention, it requires a very minimal amount -plus, if you're buying tinned pulses there's next to no prep time.
Ingredients:
Serves 2-3
50g Red kidney beans (tinned & drained) *
40g Chickpeas (tinned) *
50g Green lentils (tinned)*
50g Barley/Pearl Barley
50g Pinto beans (tinned)*
150-200g of neck or bones of a left over chicken/lamb/beef carcass – this is optional, leave out if you want a vegetarian version.
You can buy a piece of lamb neck uncooked but this would lengthen the cooking time.
3-4 balls of frozen spinach chopped or 1 bag of fresh baby spinach, washed and finely chopped
A large onion, diced
1 tsp turmeric
1 Vegetable stock cube (or you can use a homemade chicken broth)
Knob of butter (or you can use 1 tbsp olive oil or coconut oil)
Sea salt & ground black pepper
*Alternatively, use a dried version, but you will need to soak it overnight by completely covering with water.
Method:
First, soak the barley (and pulses if you are using dried) overnight in plenty of water so that they are covered.
In the morning, fry the onion in the butter/oil in a large pan. Once softened, add in the tumeric.
Next, transfer the barley & pulses (with bones/carcass if you are using) to the pan and cover with enough water so that all the ingredients are covered.
Add in the stock and stir.
Keep checking and add more boiling water if necessary.
Finally, when all the ingredients start to soften, add in the spinach and leave to simmer until all ingredients are completely soft.